If you're in the market for a new vehicle, leasing can be a great option. A lease is a contract by which one party conveys a specified object - in this case, a vehicle - to another for a certain amount of time for periodic payments.
Leasing is like renting; you only pay for what you use and the contract usually lasts between two and four years. Be sure to keep in mind that there are certain conditions and limitations throughout the lease such as: being responsible for regular maintenance, the vehicle's overall condition and mileage restrictions. To understand if leasing is the right option, ask yourself a few questions: What is the purpose of a new vehicle: business or pleasure? How often do you like to upgrade to a newer model? And finally, how many kilometers will you be driving?
Choosing to lease your next vehicle will offer several benefits to your ever-changing lifestyle:
Leasing will put you in a new vehicle more often. Your tastes and needs may change, a new family member might be on the way, requiring a bigger vehicle or you simply desire the latest up-to-date technology or safety features.
There are flexible lease terms for a flexible lifestyle. Choose from monthly, semi-monthly or bi-weekly payments, depending on what's best for you. Leasing allows you to provide smaller payments throughout your contract, which in the long run will help keep money in your wallet.
Stay under warranty. Throughout your lease, the vehicle is usually still under warranty so if any major problems occur, it'll be covered and you can continue to keep peace of mind.
No obligations. Once your lease is coming to an end, there are no obligations or expectations. You have the option to lease a new vehicle or buy out your current vehicle for the remaining amount or simply return it and walk away.

Although leasing is an option for some, financing may be the better choice if you prefer to be the complete owner of the vehicle and want to build equity. Financial terms can range from one to eight years and give you the flexibility to increase your payments when you have extra cash flow. Once you've paid off your financing, you become the complete owner of the vehicle and can continue to drive for years to come.
Financing requires a larger down payment and can be more expensive on a monthly, long-term basis compared to leasing. Below are the pros and cons between leasing and financing: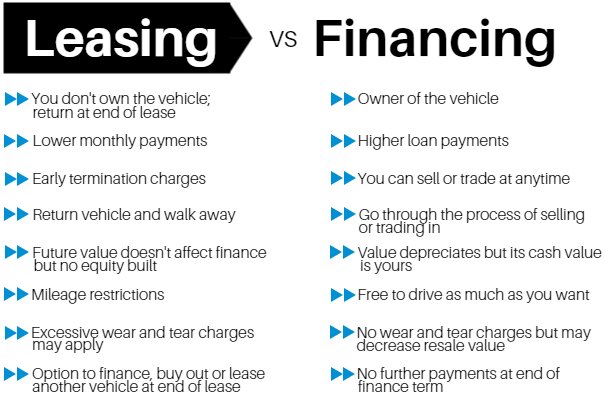 Overall, the primary advantage to leasing a vehicle is the financial savings due to lower monthly payments. Although leasing offers attractive benefits, it's always best to see what fits your lifestyle and examine the pros and cons before making a decision.
Our
staff
is always here to provide guidance and help get you the Mazda you deserve. Come see us today!